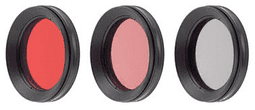 UW Variable Red Filter M67
---
UW Variable Red Filter M67. Consists of two polarizing filters to reduce green and blue wavelengths enabling to achieve photo/video
with less blue cast (*2)
・Turning front polarizing filter provides seamless adjustment of filter strength from almost none-filter effect to
maximum filter strength with nearly zero blue/green wavelengths. So this product effectively works to adjust
color of your photos or clips from bright surface where we have rich ambient light not requiring a filter to the
depth requiring strong filter effect due to less orange/yellow wavelength in ambient light (*2).
・Two filters are combined by bayonet system for easy and speedy separation when necessary as like to
eliminate trapped bubbles in between underwater or clean inside of the product after use without
conducting complicated procedures.
・Compatible with versatile 『M67 Mount』 to adopt to wide range of camera system.. (*3)