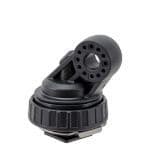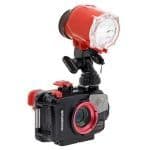 Shoe Base II
---
Also this base adapter is usable to attach an action camera or compact digital camera on an accessory shoe of an underwater housing to shoot simultaneously.
As INON Z-330/S-2000/Z-240 Type4/D-2000 Type4 support wireless mode, installing any of them on an underwater housing via set of the "Shoe Base II" and "Z Joint" offers you simple strobe shooting immediately.

Full length: 52mm (2.0in)
Weight: 45g (1.6oz) [air] / approx.20g (0.7oz) [underwater]

Compatible products(YS joint)
Directly attached

Single Light Holder LF
Single Light Holder LE
Attached via optional "Z Joint"

Z-330, S-2000, Z-240, D-2000, D-2000S, D-2000W/Wn, D-180 (*1), D-180S, Z-220 (*1), Z-220F, Z-220S (*1)
SD Mount Cage for HERO3/3+/4
SD Front Mask STD
SD Front Mask for HERO5/6
SD Mount Base for TG-Tracker
SD Mount Base UWH1
(*1) There are two Arm Base design depending on production lot and only trapezoidal version can accept this product.