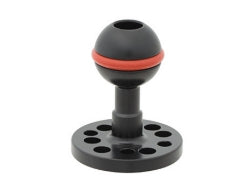 Multi Direct Base IIA
---
The Multi Direct Base IIa is a base adapter to add a ball-joint on handle of a digital SLR housing, dedicated mount of a housing or grip base for compact digital cameras to have a strobe or other lighting device via connecting arm with a clamp. This adapter is manufactured by machining corrosion resistant aluminum alloy. Its base plate has large area and is fixed by two cap screws firmly to comfortably hold heavy gears. There are 6x M6 screw holes and 4x M5 screw holes to accommodate with various housings and handles. The ball-joint is designed with hollow portion to lighten total weight.
 
Full length: 48mm (1.9in)
Effective length: 37mm (1.5in)
Weight: 33g (1.2oz) [air] / approx.20g (0.7oz) [underwater]
Package contents: M6 Cap Bolt x 2, M5 Cap Bolt x 2,
          M6 Flat Washer x 2, M5 Flat Washer x 2, Allen Wrench
 
Compatible base/housing etc.
Grip Base D4, Grip Base M1, D Holder, D Holder Extension Bar,
Grip Base DIII w/ Rubber Grip D, Grip Base DII w/ Rubber Grip D,
Holder II, Grip+Bar III Set, Holder II Grip Set, Holder Base,
Grip+Bar I Set, Grip+Bar II Set,
Port Arm for MRS, Port Arm for UFL-MR130 EFS60, Tripod Adapter,
Weight Plate (Screw Type), Weight Plate (Velcro Type),
X-2 series Housing, X1-Z/LZ/NZ Housing,
Other brands' housing/arm system including Anthis, Kenko, SEA&SEA, Nauticam (*1)
 
(*1) INON INC. has not confirmed compatibility with specific product(s) from other manufactures. Before using, make sure to check if the product(s) from other manufactures is compatible and does not interfere other combined product(s)