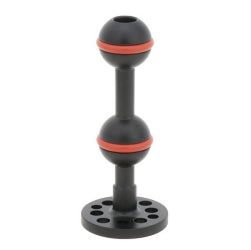 Multi Direct Base II WB
---
The Multi Direct Base II WB has two ball-joints to have two branches of arm enabling more sophisticated lighting such as using one strobe for a subject and the other strobe for background or using a strobe for still imaging and video light for footage.
Total 10 fixing holes (M6 x 6, M5 x 4) on its base provide broad compatibility with major brands' housings/grips and attached thoroughly by two cap bolts.
 
Full length: 97mm (3.8in)
Effective length: 86mm (3.4in)
Weight: 56g (2.0oz) [air] / approx.33g (1.2oz) [underwater]
Package contents: M6 Cap Bolt x 2, M5 Cap Bolt x 2,
          M6 Flat Washer x 2, M5 Flat Washer x 2, Allen Wrench
 
Compatible base/housing etc.
Grip Base D4, Grip Base M1, D Holder, D Holder Extension Bar,
Grip Base DIII w/ Rubber Grip D, Grip Base DII w/ Rubber Grip D,
Holder II, Grip+Bar III Set, Holder II Grip Set, Holder Base,
Grip+Bar I Set, Grip+Bar II Set,
Port Arm for MRS, Port Arm for UFL-MR130 EFS60, Tripod Adapter,
Weight Plate (Screw Type), Weight Plate (Velcro Type),
X-2 series Housing, X1-Z/LZ/NZ Housing,
Other brands' housing/arm system including Anthis, Kenko, SEA&SEA, Nauticam (*1)
 
(*1) INON INC. has not confirmed compatibility with specific product(s) from other manufactures. Before using, make sure to check if the product(s) from other manufactures is compatible and does not interfere other combined product(s)