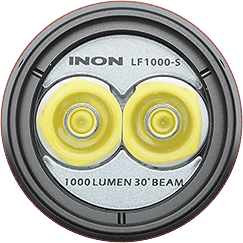 LF1000-S (with Red Filter LF-S, Wide Filter LF-S and Wide Red Filter LF-S)
---
Multipurpose Pocket Water-Proof Light
Standard Beam with Two Power Setting

Maximum 1000 lumen and 30 degree coverage. 3 x AA operated compact and handy flashlight thanks to its parallel loading battery pack. Versatile multipurpose waterproof flashlight for various scenes.

Ideal lighting device for aiming or macro imaging thanks to carefully selected white LED chip producing quality light with enhanced color reproducibility and color temperature 5000K.

Simple yet durable rotary switch provides two power settings for various scenes; FULL with maximum intensity 1000 lumen or LOW with 250 lumen for longer burn time and usable on land as well (*). The rotary switch is equipped with Lock Ring to prevent accidental operation when the product is not in use.

(*) Only LOW mode is usable on land. FULL mode is not usable on land except for brief function check.

Operated by easily obtainable 3 x AA batteries. Using compatible rechargeable batteries like "eneloop" or "eneloop pro" enables you to share same battery charger with an INON strobe to enhance mobility and minimize your luggage space. The rated practical burn time (*) with "eneloop pro" (BK-3HCC) rechargeable batteries, is approx. 50 minutes at FULL mode or approx. 235minutes (3hrs 55 min) at LOW mode.

(*) Average time to get half brightness comparing to initial performance when using "eneloop pro" batteries (Model code: BK-3HCC).

Standard packaged accessory of the LF1000-S includes "Wide Filter LF-S" to increase standard 30 degree beam coverage effectively at 30% more (approx. 40 degree) and also soften the light itself. Other "Red Filter LF-S" and "Wide Red Filter LF-S" are also packaged to change color tone not to stimulate shy marine lives.

Wide range of optional accessories is available to install on a camera or camcorder.

The light head and battery box is made from seawater-resistant aluminum alloy. Simple yet durable construction with double O-ring for moving parts supports depth rating 120m. The independent rotary switch part is equipped with a stopper to prevent accidental flooding due to over loosening.

Gold coating on electrical contacts of the light head and battery box provides maintenance free circumstances under normal usage.

Interchangeable Light Head design enables you to use "LF800-N", "LF1100-W" Light Head benefitting for various applications and supports possible upgrade to future model as well.