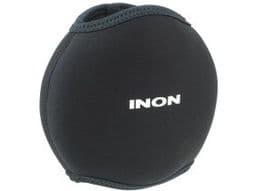 Dome Port Cover L (neoprene)
---
The Dome Port Cover L is made of neoprene as same as wet suits and designed to fit toφ180mm/7.1in dome. It is recommended to cover compatible dome lens/port all the time to prevent accidental damage unless shooting images. The Dome Port Cover L has slits on its top and bottom to help easy and speedy installation/removal on a dome lens/port equipped with a hood.

Compatible Port
Dome Port 2 + Shade 2 Set, Dome Port 2,
Dome Port + Shade 2 Set for Olympus, Dome Port for Olympus
 
*Never put wet lens cover on compatible lens/port on land. Doing so may cause degradation of the lens coating or glass itself resulting in spotting or discoloration.