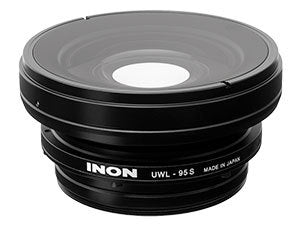 UWL 95S M52 Wide Conversion Lens
---
Versatile "M52 Mount"
Directly screwed on compatible Olympus housing.
Compatible housing: "PT-059","PT-058","PT-056"
Compact and handy
Compact size with 90mm outer diameter and 48.3mm length makes it easy to carry around. Thanks to the thin "M52 Mount" design which does not sacrifice lens optical performance, the overall set size remains compact when attached on a housing.
Dual use land/underwater
Maximum view angle underwater is 95° which gets widen to 159°when using on land providing fisheye images without complicated and expensive gears.
Super wide option
Optional Dome Lens Unit IIIA, Dome Lens Unit IIIG widens original view angle to approx. 141°.